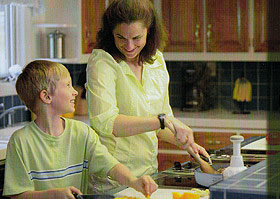 Worry About the
Food, Not the Cookware
Most cookware falls into one of three categories: stainless steel cookware with an aluminum core, stainless steel cookware with an aluminum slab bottom or nonstick. Each has its pros and cons, but amateur and intermediate cooks at home and expert chefs alike prefer stainless steel cookware with an aluminum core.
Celebrity Ultra is high quality surgical-grade stainless-steel cookware manufactured in the USA by Vita Craft® with a balance of precision engineering, ingenuity, and artisanship perfected over 70 years of making quality cookware collections. Celebrity Ultra is the first and only fully 9-ply cookware and is finished with the most innovative handles and knobs in the industry. Celebrity Ultra cookware does a superior job of browning meats and locking in the natural flavors of vegetables and other foods. You can cook without any added oil or boiling in water and allow your food to cook completely. Your food retains its natural vitamins and minerals; your meats and vegetables get a simple but delicious flavor charge.
Your Celebrity Ultra cookware collection offers the perfect cooking tools for your kitchen to prepare classic family meals and try new, emerging cooking techniques, such as healthy waterless–greaseless or induction-based cooking.
With a lifetime warranty, Celebrity Ultra cookware means you will never have to buy replacements. You can start with a classic set of versatile pieces, such as a skillet, sauce pan, sauté pan, complemented by Celebrity's stainless steel bakeware and specialty cookware/accessory items. Simply add pieces as needed. Pick up a piece of our cookware to see and feel the quality and craftsmanship that lasts a lifetime.
Celebrity Ultra Collections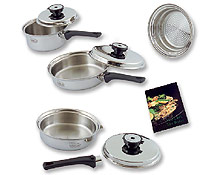 Ultra I
1.5 Quart with Cover, 2 Quart with Cover, 2 Quarter Steamer, 9.5" Skillet with Cover, 3 Long Handles & Cookbook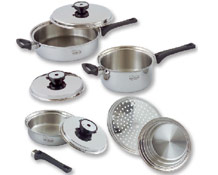 Ultra II
1 Quart with Cover, 3 Quart with Cover, Double Boiler / Dome, 4 Quart Sauté with Cover, 11" Steamer / Divider Rack, 3 Long Handles, 2 Short Handles & Cookbook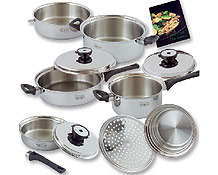 Ultra III (Includes Ultra II)
1 Quart with Cover, 3 Quart with Cover, Double Boiler / Dome, 4 Quart Sauté with cover, 11" Steamer / Divider Rack, 6 Quart, 4.5 Quart Sauté/Dome, 3 Long Handles, 4 Short Handles & Cookbook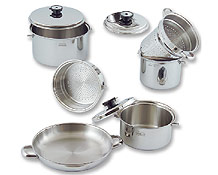 Ultra V
12 Quart with Cover, 7 Quart with Cover, Pasta Insert, 3 Quart Steamer, 4 Quart with Cover and 13" Gourmet Skillet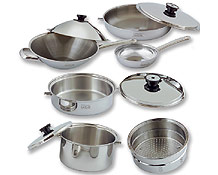 Ultra VI
5 Quart Sauté with Cover, 8 Quart with Cover, 6 Quart Steamer, 7" Gourmet Skillet, 13" Paella Pan with Cover and 11" Wok with Cover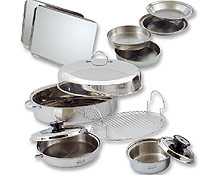 Ultra VII
3/4 Quart with Cover, 3 Quart Sauté with Cover, Turkey Roaster with Rack and Cover and 6 Piece Bakeware